Join us at the 2018 TAASLP and TAA Conference!
Where: 
Embassy Suites
1200 Conference Center Blvd,
Murfreesboro, TN 37129
When: October 18-19th, 2018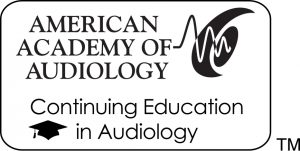 TAASLP/TAA is approved by the American Academy of Audiology to offer Academy CEUs for this activity. The program is worth a maximum of  1.25 CEUs. Academy approval of this continuing education activity does not imply endorsement of course content, specific products, or clinical procedures. Any views that are presented are those of the presenter/CE Provider and not necessarily of the American Academy of Audiology.
This program is offered for up to 1.45 ASHA CEUs (various levels, professional area)
TAASLP/TAA 2018 Convention Handouts
Adult/Medical SLP Track:
Collaborating with Palliative Care in the Assessment and Treatment of Dysphagia: Meredith Ashford, MS, CCC-SLP
2018 TAASLP Workshop Worksheet
Maximizing Communication in Individuals with Primary Progressive Aphasia: Keely McMahan, MS, CCC-SLP
Preschool/School Age Track:
Assessing Vocabulary Using the PPVT-5 and EVT-3: Gloria Maccow, Ph.D.
Core Connections: Making Core Words Work: Claire Campbell, M.A., CCC-SLP, ATP
Core Connections TAASLP 2018 handout
3 by 3: Grade Level Reading by Third Grade: Buehler and Guignard
Assessment, Intervention, and School Re-Entry for Children with Acquired Brain Injuries: Hankins, Ellmo, Bryant
2018 Signs & Symptoms Young Child Eng-Spa
TAASLP 2018 TBI Assessment and Treatment 101.FINAL
Addressing Speech/Language Goals Through Literacy: Moving Beyond Book Companions: Cooper, Weathersby, Moore
Addressing Speech Language Goals Through Literacy Moving Beyond Book Companions
Reading and the SLP: Adams and Hutchings